The advantages of modular exhibition stands are apparent:
The basis of the modular display is a lightweight aluminum frame. The weight of modular stands is at least 30% less than standard individual stands;
Modular designs can be easily reconfigured to any size and height for each particular exhibition;
A prefabricated stand is used a large number of times, so you can calculate the ROI from your investment in a modular frame;
You do not need professional assemblers, designers, or engineers to assemble such a modular system;
It takes less time to assemble the system, which means savings on travel expenses for your staff;
You save on the services of an exhibition booth designer because the sets of modular structures, depending on the number of panels, already offer you the maximum possible number of design options. You need to choose the one that you like and fits the rented space at the exhibition;
You do not need a large number of team members in preparation for the exhibition; your design is always with you, and there is no need for designers, project managers, or a large number of contractors;
An elementary change of banner changes the look of your modular booth. It's fast, and our team does it in a matter of days.
We could go on and on listing the benefits of modular exhibition stands because we love our product, but it's not clear-cut.
Pros and cons of modular exhibition stands
Modular stands are not always a firework of emotions and a solution to all your problems. So let's be honest with you, modular stand designs have disadvantages. But they are not flaws in the literal sense of the word.
You can't consider modular designs a one-time investment to solve all the problems your marketing department has set for offsite events. For example, suppose your company's marketing department is planning to build a two-story structure at an upcoming trade show. The main task is to stand out from the competition in a rented fairground area. In this case, you will not be able to use a modular structure. For some, this may mean a lack of modular systems. However, this is not the case.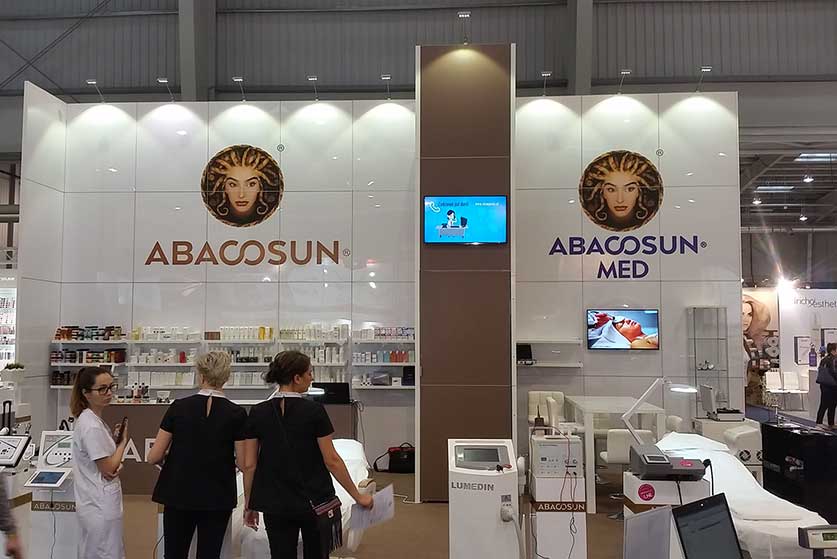 Maintenance of your modular exhibition stand
Or, suppose your modular system participated in one of the trade shows; after the structure was assembled, it was shipped by the moving company to your main warehouse for storage until the next trade show. The moving company damaged the system by hitting it against a complex complement. However, there was no damage to the packaging. Suppose your warehouse does not open the package after receiving it but simply leaves it in storage until the subsequent use. In that case, you will not know about this damage until the modular construction is assembled at the next inset.
Thus, reusable modular systems require inspection and maintenance like any other equipment. And this task falls on the shoulders of your staff and requires a responsible person.
Additional costs for assembly and disassembly of the modular exhibition booth
In addition, if you have purchased a modular exhibition system consisting of many panels to build up quite a large area on the exhibition grounds, you may need help to assemble and dismantle the stand.
You are guaranteed to cope with small designs on your own, as they are no heavier to assemble than a Lego constructor by a child. But in the case of large and complex structures, you may need help from outside. This is because the exhibition organizer dedicates a certain number of days to building up the show. So, your workers will have to lay out the system by elements during this time (we remember that it is pretty large and complex), determine the algorithm of the assembly, and start the process. In addition, various interactive systems of interaction with visitors, TV/AV equipment, and large banners require careful gluing.
Even three office workers would be difficult to handle it all. Additionally, sending another employee will cost you a lot and does not guarantee timely assembly and disassembly. In this case, the right solution is to involve experienced professionals. For example, if you bought a modular exhibition system in our company, we could provide services for assembling and installing our systems.
Assessment of your forces for timely assembly is necessary if you plan to build a large structure with the help of the modular exhibition system.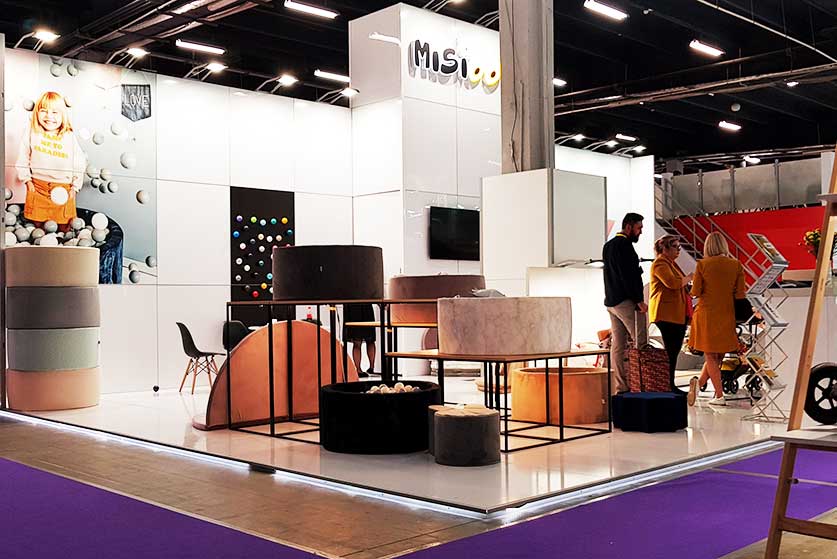 Storage and logistics costs for the modular booth
Since you purchased the equipment, you will have to store it somewhere. This sounds like weakness in buying a modular booth. But it isn't. If you purchased a system with up to 24 frames, you should know that the area that the structure will take up in its disassembled state and its original cases will not take more than 3-4 sqm. This size of rented or allocated space in your warehouse will not affect your annual rental budget.
If you translate this amount into numbers and calculate how much you have saved by not ordering the construction of an exhibition booth this year but simply using the modular system, you will weep with happiness. It is a guaranteed, justified saving strategy unless you plan to close your business immediately after the exhibition.
And the logistics costs would fall on your shoulders even if you ordered the construction of a custom trade show booth. You might not have paid attention to them, seeing the total amount from the construction company for your booth.
Modular exhibition booths VS Custom trade show booths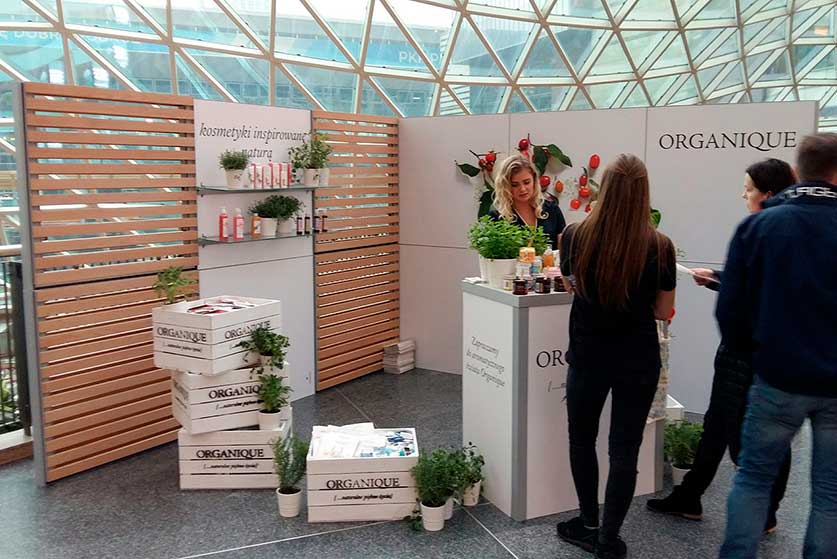 You can't answer unequivocally. That would not be fair to you. Each case requires a separate, individual solution.
Custom stands will suit large companies with big budgets or companies for which the emphasis on marketing is the basis for the business's existence. Well, or if you are planning to build a multistorey structure. In that case, you're guaranteed to need to consider a custom trade show booth. But before you do that, contact us and describe your idea; we know for sure what would be the best solution for you in this case.
We have been making and selling modular exhibition stands for over twenty years. In addition, we build custom exhibition stands, so the best idea is to ask us a question, and our engineers can calculate the best solution.
Our staff quickly looks for a solution to your problem and gets involved from the beginning to the end of the project. More than 90% of our customers come back to us. We can also help you rent exhibition furniture, equipment, and decor. The company has our own printing house. We can make banners of any complexity so that the bright picture will attract more visitors to your stand.
And we have one more solution if your budget is limited – the rental of a modular exhibition stand. So ask us a question, and we are guaranteed to find a solution!