Trade Show Booth Constructor in Nurnberg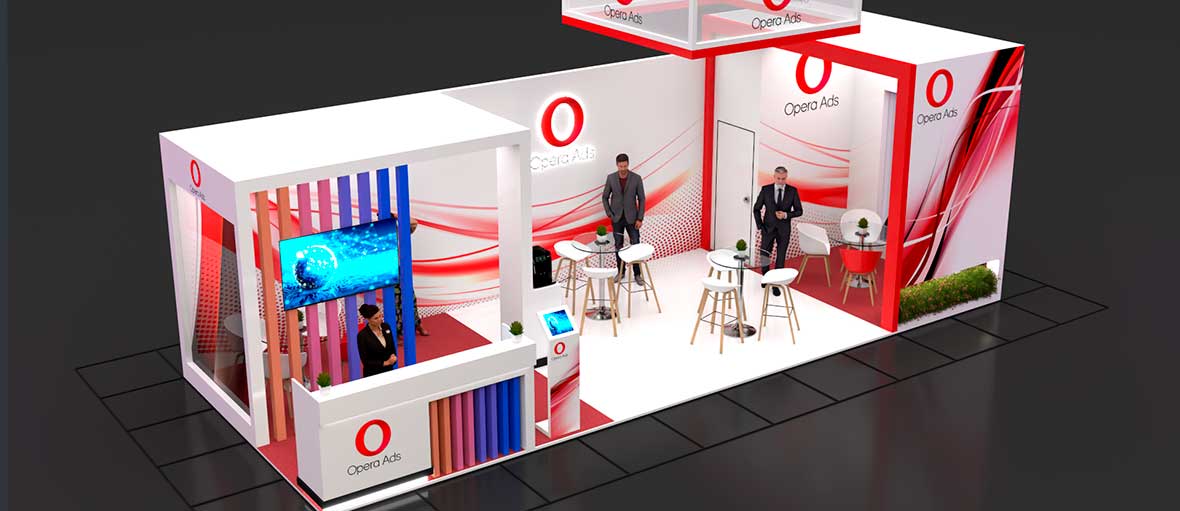 Elevate your exhibition journey with ESBAU, the leading exhibition stand builder in Nuremberg. We specialise in creating personalised exhibition stands that steal the show at trade shows and conferences. Trust us for unparalleled exhibition stand construction in Nuremberg, no matter how complex.
Spanning Europe and beyond, our capabilities extend to designing exhibition stands in multiple locations. Utilising an extensive network of partners, we can provide first-class stand construction for your events throughout the year, wherever you are. This not only ensures a memorable presence, but also streamlines logistical costs.
Our commitment goes beyond construction – we're dedicated to building lasting relationships with clients and partners alike. We deliver world-class exhibition stands and related services, offering unrivalled value at budget-friendly prices. Transparency and efficient communication are paramount, which is why we assign a dedicated project manager to each Nürnberg project. This ensures a seamless journey as we bring your exhibition vision to life.
Share your stand objectives and budget with us to ensure a bespoke approach. From bespoke stand solutions to lightweight modular designs, we adapt to your design preferences and future aspirations for your Nürnberg display. Leave a lasting impression with ESBAU – where innovation meets exhibition excellence in Nuremberg.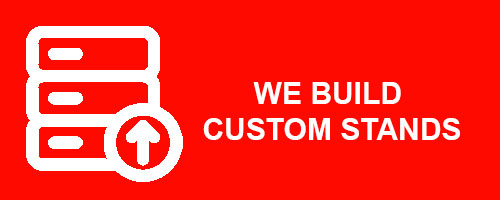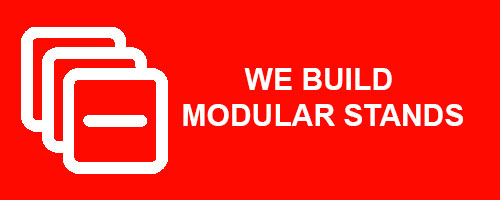 As the event approaches, we will work closely with you to ensure a seamless connection with event coordinators and provide essential support for your participation at NürnbergMesse. We understand that for some clients, establishing a dialogue with event planners and navigating the intricacies of securing services from organisers or the venue can seem daunting. But fear not, as an ESBAU Project Manager is on hand to guide you through these aspects. Their expertise ranges from overseeing the transport of your exhibits to your stand to organising personalised souvenirs.
Even if this is your first time exhibiting at a trade show or conference in Nuremberg, our dedicated team remains steadfast in our commitment. We'll make sure you're fully equipped and confident for the event ahead.
Our Booths Constructed at Various Events
Discover Outstanding Solutions for Your Upcoming Trade Fair in Nurnberg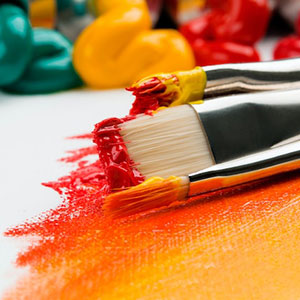 Exhibition Graphics
Realistic graphics on all types of substrates and in all sizes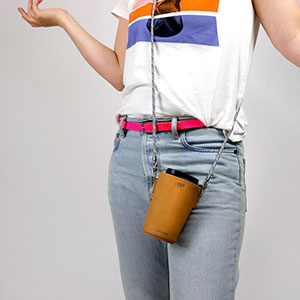 Souvenir Production
Produce souvenir products for your upcoming event for client gifts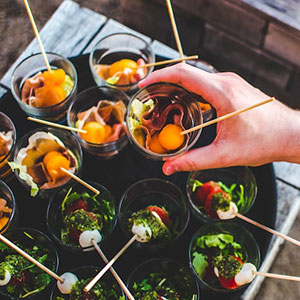 Catering
Catering services, ordering coffee machines and water for an unforgettable event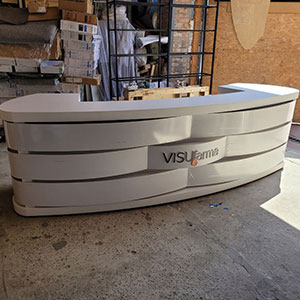 We provide storage services for exhibition furniture and exhibition stand elements for our customers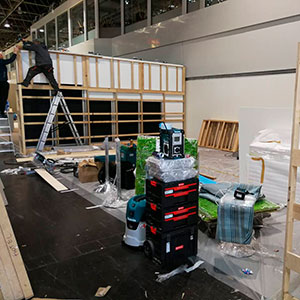 Structural Assembly
Timely and accurate installation and dismantling of exhibition structures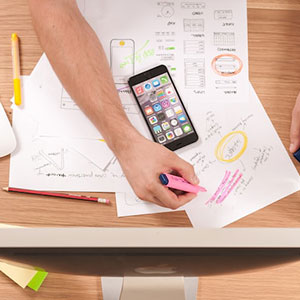 Support by a project manager at all stages of your project for your easy participation in the event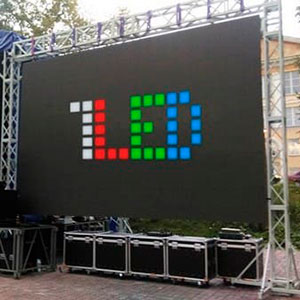 Equipment Rental
We rent the necessary equipment for the event, including LED screens of any size
Trade Show Booths Ideas in Nurnberg
Creating a stunning exhibition stand requires careful planning and expert guidance. Here are five insightful tips to help you create a standout display:
Use our Nuremberg-based specialists: With expertise in bespoke exhibition stands, our team starts with a thorough consultation. Through meaningful discussions, we understand your exhibition or conference goals and ensure your stand design embodies your vision.
Focus on feasibility: Clients often approach us with designs created by non-specialist designers. While visually appealing, such designs can be challenging to implement. We advocate working with stand design experts who understand the pragmatic facets.
Practical realism: Our designers prioritize concepts that work on paper and in reality. This pragmatic approach ensures that your stand not only attracts attention but also thrives within the physical constraints of the space.
Mind your budget: Budget plays a crucial role in the design process. If financial considerations are paramount, please let us know. Armed with this knowledge, our designers can propose solutions that align with your budget without compromising design excellence.
The synergy of creative forces: Collaboration is a cornerstone of our design philosophy. Working closely with you, our designers skillfully merge your concepts and financial parameters, culminating in a stand design that meets and exceeds your expectations.
Embarking on the journey of stand design is about more than aesthetics; it is about pragmatism, focus, and the pursuit of exceptional results. Our team is dedicated to translating your vision into an engaging and achievable stand design for your Nuremberg exhibition.
Steps to Acquire Your Exhibition Booth in Nuremberg
Create or send us the booth design
Agreeing the budget for stand construction
Entering into a cooperation agreement
Your ready-made stand at the trade fair
DO YOU WANT TO KNOW THE COST OF YOUR STAND?
SEND US THE REQUEST, AND WE'LL DISCUSS IT!
How to Organize Your Involvement in a Trade Fair in Nurnberg
Strategies and optimize your presence at the Nuremberg trade fair
Phase 1: First steps
Evaluate and select the exhibition: Carefully consider your options and choose the ideal event to meet your objectives.
Set and approve a budget: Define your exhibition budget and secure the necessary approvals for your financial plan.
Submit application and agreement: Complete the show application form and finalize the contract to confirm participation.
Phase 2: Ten months in advance
Evaluate exhibitor documentation: Thoroughly review the exhibitor documentation package and ensure timely completion of all required forms.
Obtain exhibition program: Obtain the official exhibition program from the organizers to help you strategize your participation.
Confirm program event participation: Confirm your company's participation in the exhibition's relevant business or scientific events.
Communication: Maintain close contact with the show organizers to keep abreast of any changes or developments.
Phase 3: Six months ahead
Define showcase offerings: Precisely outline the products or services you intend to showcase at the event.
Reserve your space: Secure your space at ESBAU (Nuremberg Exhibition Center) to maximize visibility.
Create a promotional plan: Work with advertising and marketing teams to create a comprehensive promotional strategy for your participation.
Share event plans: Communicate your planned events or activities to organizers for seamless coordination.
Phase 4: Four months ahead
Assemble your show team: Identify the people who will represent your company at the event.
Delegate responsibilities: Coordinate with relevant departments to assign roles and responsibilities for a cohesive preparation process.
Budget meeting: Convene a dedicated meeting to review and approve the final event budget.
Prepare for PR: Write compelling press releases with the help of your advertising or PR teams.
Booth design and materials: Finalize your stand design and create promotional materials for the event.
Secure invitations: Obtain invitation cards from the organizers for distribution.
Logistics planning: Organize accommodation and travel arrangements, including hotel and flight bookings.
Phase 5: Three months before the event
Launch pre-event marketing: Launch a targeted marketing campaign to drive traffic to your stand.
Engage with the media: Distribute press releases to print media to build anticipation and interest.
Monitor progress: Regularly assess your progress against the timeline to ensure consistent progress.
Phase 6: Two months out
Assess readiness: Conduct a comprehensive meeting with your trade show team to assess your readiness and synchronize efforts with other business units.
Amplify marketing: Increase your pre-event marketing efforts by sending personalized invitations to potential and existing customers.
Fine-tune staffing: Finalize staffing schedules, working conditions, and any arrangements for temporary staff.
Prepare post-event communications: Organize materials for communicating with clients after the show.
Confirm travel and accommodation: Confirm accommodation and travel reservations, including hotel stays and flight details.
Phase 7: One month before
Conduct training sessions: Organize training sessions for your staff to equip them with the necessary skills and knowledge.
Issue reminder invitations: Send reminders to encourage participation and attendance.
Order Necessary Services: Order essential services and equipment such as loading assistance, security, and technical set-up.
Secure passes and coverage: Procure exhibitor passes and arrange necessary insurance.
Phase 8: Within two weeks
Prepare staff: Begin comprehensive training of your staff to ensure they're well prepared for the event.
Coordinate meetings: Reach out to potential customers and partners to finalize meeting schedules during the event.
By meticulously following these steps, you'll build a solid foundation for a successful and impactful appearance at Nürnberg Messe.
Phase 9: Final countdown
Finalize your preparations: Ensure all loose ends are tied up as you approach the event.
Test run: Conduct a test run of your stand setup to identify potential problems and make necessary adjustments.
Confirm logistics: Confirm all logistics arrangements, including transport, equipment, and materials.
Coordinate staff: Review roles and responsibilities with your staff to ensure everyone is on the same page.
Conduct a pre-event meeting: Gather your team for a comprehensive briefing to synchronize efforts and address any last-minute concerns.
Phase 10: Showtime
Arrive early: Arrive early on the event day to set up your booth and ensure everything is in place.
Engage attendees: Create a welcoming atmosphere at your booth to attract and engage attendees.
Network and connect: Take advantage of the opportunity to network with potential customers, partners and industry peers.
Host events: Host the events you've planned, such as presentations, demonstrations, or workshops.
Gather leads: Actively collect contact details and leads from interested visitors.
Phase 11: Post-event activities
Debrief with the team: After the event, gather your team for a debriefing session to discuss what went well and areas for improvement.
Follow-up: Reach out to the leads and contacts you collected during the event with personalized follow-up messages.
Evaluate performance: Evaluate the success of your participation by analyzing key metrics such as lead generation, engagement, and ROI.
Gather feedback: Solicit feedback from your team and attendees to gain insights for future improvements.
Plan for next year: Start strategizing for your next event, considering lessons learned and new opportunities.
By carefully navigating through these phases, you'll ensure a successful show and lay the foundation for continued growth and success in your exhibition endeavors.
Trade Fair Center NürnbergMesse
Please Provide Us With Details About Your Project in Nuremberg
The cost of an exhibition booth in Nuremberg
Write your contacts, and we will contact you within 30 minutes about your project. 
3D sculptures for promotions
We are built exhibition stands in Germany