We have over ten experienced exhibition booth designers on staff and contracted out. We successfully solve problems for companies of any size and offer solutions for complex projects.
When we begin to create a design for an exhibition design or an event like a conference, we check with the customer seemingly details that do not directly affect the future sketch. However, all of our questions are directly related to the design of the exhibition stand. We need to comply with ergonomics so that the stand looks beautiful and is convenient for your employees and visitors.
If it is a big project, it is essential to consider where and how people at the stand will be distributed. Where is the optimal place to make meeting rooms if partners are invited to the exhibition for negotiations?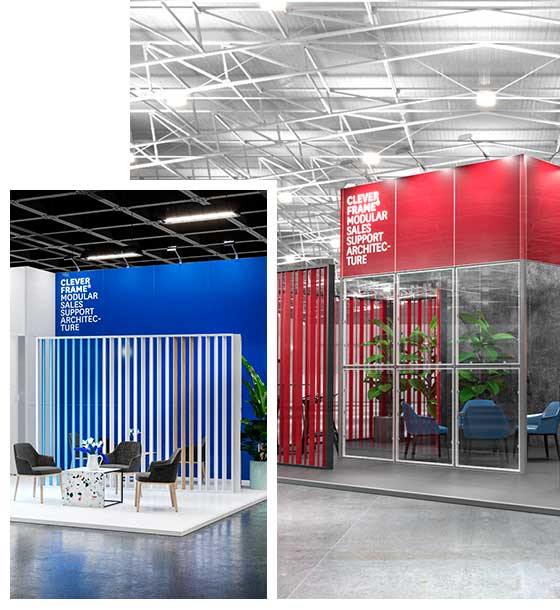 It would be best to consider where the storage and storage rooms will be located to quickly transfer the necessary products to the visitors' site.
We must see your brand book if it is vital for you to adhere to corporate standards.
Exhibition stand design or conference design is not only about the event's colors and decoration but also the space's harmony and usability.
DO YOU WANT TO KNOW THE COST OF YOUR STAND?
SEND US THE REQUEST, AND WE'LL DISCUSS IT!
For exhibition structures up to 15 square meters, we recommend using modular systems if you are satisfied with the uncomplicated design of the stand itself. Each set of modular systems contains a maximum number of different exhibition stand designs, which can only be assembled from a limited number of panels and collection elements.
The cost of exhibition or conference stand building
Write your contacts, and we will contact you within 30 minutes about your project. 
3D sculptures for promotions
Choose a booth for your business goals at a trade show or conference
DO YOU WANT TO KNOW THE COST OF YOUR STAND?
SEND US THE REQUEST, AND WE'LL DISCUSS IT!