We Construct Booths for Trade Fairs and Conferences in Spain
We design and manufacture unique stands for exhibitions in Spain. Our team will develop an individual project for you and help you solve all your tasks.
Our designers will develop an exhibition stand of any complexity and size. If you have a ready design of an exhibition structure, we will calculate the cost and offer professional design of an exhibition stand in Spain. And an experienced project manager will ensure that your participation in the exhibition goes according to the plan.
Rapid Construction of an Exhibition Stand in Spain
One of the most effective ways of advertising is to participate in an exhibition! Custom exhibition stands should emphasize the company's corporate identity and make the brand recognizable. We offer a full range of construction and technical support services at the exhibition in Spain.
Our designers develop personalized stands with the business goals you want to achieve at the event in mind. A custom solution is guaranteed to capture visitors' attention at the event. Building a customized exhibition stand is the painstaking work of a team of specialists who are constantly in touch with you through a project manager.
We suggest modular stands if your company plans to regularly participate in various events, conferences, and exhibitions. This reusable modular system has a well-thought-out product exposition and meeting area. As a rule, such frames are lighter than customized stands and easier to transport over long distances.
We use only high-quality materials for the VIP segment to construct our stands.
Send us your current documents and the design of the exhibition structure if you have already created it. Our manager will calculate the approximate cost of the project based on the received documents and your comments.
Please let us know if you have an approved budget for stand construction. This will greatly facilitate and accelerate the calculation process. Knowing the funding for the construction of the exhibition stand, engineers can understand what materials to use in the design and construction of the exhibition stand in Spain so as not to exceed your budget.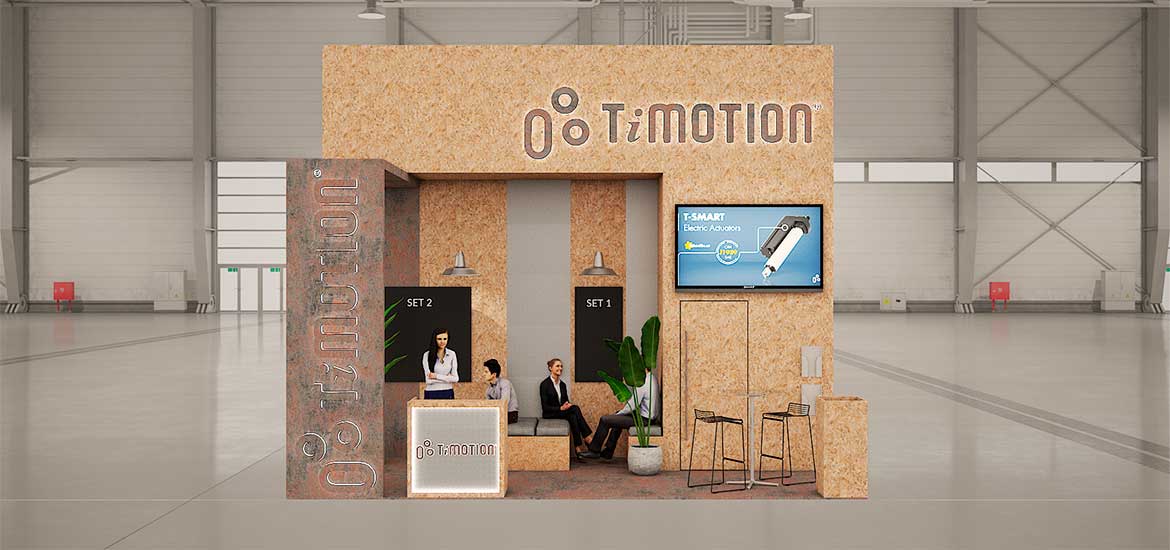 Turnkey Stand Construction in Spain
Our company offers a full package of services necessary for your successful participation in a trade show in Spain:
Exhibition stand design development;
Preparation of project documentation;
Installation and dismantling of the exhibition stand;
Services of a project manager for exhibition management;
Possibility to store the exhibition stand purchased from us until the next event (applies to modular racks and elements from the frame);
Rental and ordering of exclusive exhibition furniture;
Printing of banners of any size;
Production of souvenir products;
Rental of audio, video, and LED equipment for presentations;
Catering and cleaning services at the stand.
How to Purchase Your Exhibition Booth in Spain
Create or send us the booth design
The solution to buy custom or modular stand
The construction of your stand
DO YOU WANT TO KNOW THE COST OF YOUR STAND?
SEND US THE REQUEST, AND WE'LL DISCUSS IT!
Where We Construct Exhibition Booths in Spain
Stand Construction in Madrid
Stand Construction in Barcelona
Stand Construction in Zaragoza
Stand Construction in Alicante
Stand Construction in Valencia
Stand Construction in Bilbao
When Should You Start Preparing for an Exhibition in Spain?
Many companies start preparing for exhibitions 13 months in advance. It should be borne in mind that the formation of the most prestigious exhibition events begins 10–12 months in advance. Usually, applications for participation in the next year's exhibition are accepted directly on the days of the exhibition or immediately after its end. Therefore, the best places in the exposition are booked at this time.
It is ideal if the systematic preparation for the exhibition starts a year before its opening. At least six months in advance.
You should know exactly how and what will be presented at the exhibition. Three months before the start of the trade fair, you should launch an advertising campaign for your participation in the display so that your customers can determine their plans.
And, finally, you should have at least two weeks to eliminate all the little details and deficiencies.
The sooner you start approving the design project of the exhibition stand and hand over the documents to the exhibition construction company for work, the more time you will have left for preparing marketing during the exhibition and healthy nerve cells.
Send Us a Request for Estimation of Your Booth
The cost of an exhibition stand in Spain
Write your contacts, and we will contact you within 30 minutes about your project. 
3D sculptures for promotions