Conference Stands Supplier For Your Trade Show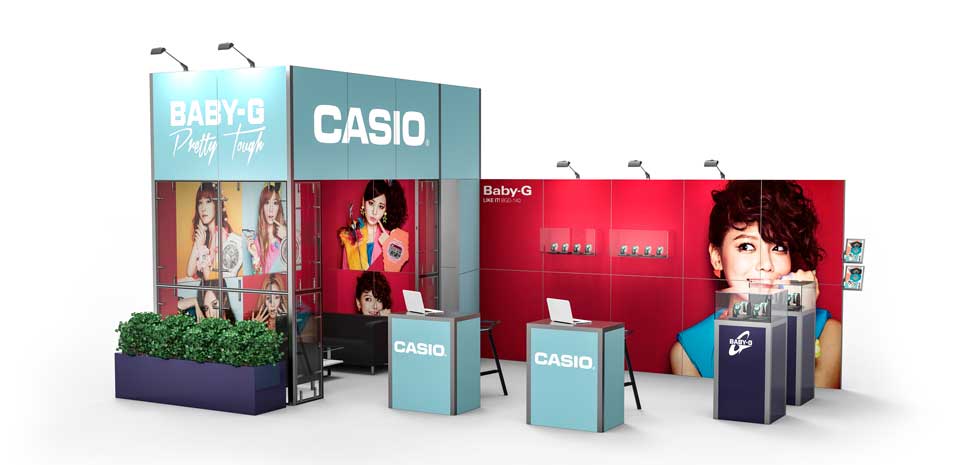 We produce modular solutions to create a conference booth for exhibitions and conferences. So you can use our conference booths many times. And you can change the design of your stand for the meeting each time because even the most straightforward set of modular panels allows you to change your conference booth designs repeatedly.
The conference booth displays are based on aluminum display cases and panels for exhibition graphics. Depending on the size of the conference booth mockup, exhibition counters, decor elements, and conference booth backdrop are added to make the design more attractive.
Advantages of using our conference stands
Choose your choice of conference stand equipment
Conference Display Up To 15 sqm.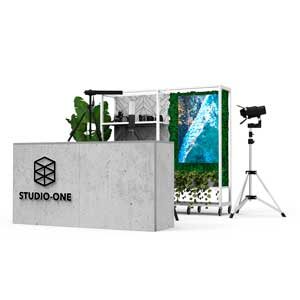 Conference Stand Up To 50 sqm.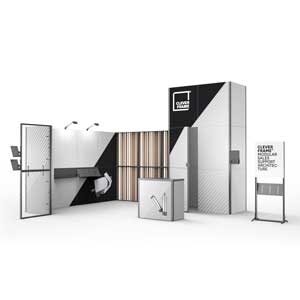 Conference Stands More 50 sqm.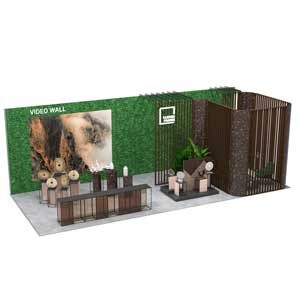 DO YOU WANT TO KNOW THE COST OF YOUR STAND?
SEND US THE REQUEST AND WE'LL DISCUSS IT!
The frame of the booth at the conference consists of specially prepared modules made of different materials and plastics.
You can attach the modular sheets to the aluminum frames with magnetic strips or Velcro strips.
After installing the conference, booth banners, always check if they are correctly and safely secured.
The Clever Frame system should permanently be mounted on a level surface.
Before installing electrical devices, ensure that all electrical wires are not damaged or pinched by the stand base.
Please, don't plug in electrical devices before the stand is assembled.
If you use light sources other than LED lamps, it is necessary to check that you will place them at the proper distance from the panels and do not cause their surfaces to overheat.
Mounting the panels in protective gloves is recommended to avoid dirty stains on the conference stands.
If you plan to build conference stands with elements higher than 2.5 m, we strongly recommend using retaining rings (ACSo8), which can be purchased at our online store modular display systems.
These elements are an additional protection against falling out of modular display panels in case of solid shocks or draughts. Their use prevents accidents.
The Clever Frame system, without particular elements, is intended for indoor use only. The system must not be exposed to the external environment. Please consult our managers if you want to use the conference booth outdoors.
Conference exhibit displays
Conference exhibition stands price
Look at how the price of the exhibit displays is formed. There is a separate price for each element of the construction. With the help of our managers, you can determine which aspects of the system you need and estimate the cost of your future conference stand.
Small Modular Booth
6x frames
18x connecting elements
6x graphic panel
1x top 75x50cm
1x trolley cover
10 years guarantee
Discount on repeat purchases of graphics
Modular Stand 12 Frames
12x frames
36x connecting elements
12x graphic panel
2x Upper profile
4x 3-side threaded profile
2x trolley cover
10 years guarantee
Discount on repeat purchases of graphics
Exhibition Booth 18 Frames
18x frames
52x connecting elements
18x graphic panel
2x upper profile
4x 3-side threaded profile
3x trolley cover
10 years guarantee
Discount on repeat purchases of graphics
The cost of modular display systems
Write your contacts and we will contact you within 30 minutes about your project. Choose whether you prefer to buy a modular trade show booth or rent modular stands for booths.
FAQ about modular conference booths
Modular systems for trade shows TM Clever Frame