Exhibition graphics for trade show
Exhibition graphics are what catch the eye of a trade show booth design. We make graphics for exhibition stands of any complexity so that we can offer you the most complex and exciting work options.
Exhibition graphic design influences the overall impression of exhibition visitors. Of course, you can build a simple exhibition booth, but the good graphics will bring it to life and make it the most visited booth at the show, even without adding complicated details.
Our company has an extensive network of offices throughout Europe. We sell and rent modern modular exhibition booths and bright, memorable graphics for them.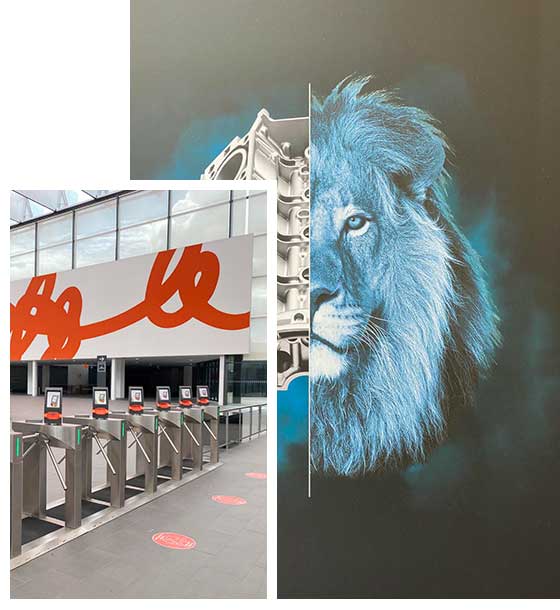 DO YOU WANT TO KNOW THE COST OF YOUR STAND?
SEND US THE REQUEST, AND WE'LL DISCUSS IT!
The realistic exhibition stand graphics
Exhibition graphics best communicate your brand's message to trade show visitors. Print quality will either make your visitors believe in the reality of what's shown in the booth, or it will show the incompetence of your printers' work and the economy of materials.
It would help if you opted for a company that has experience in working with graphics on various materials, as an exhibition stand designer is not limited to materials and surfaces in implementing their ideas. In addition, creating graphics for the selected elements should not surprise the exhibition graphics process.
We also discount repeated orders for exhibition graphics for those companies that have bought modular exhibition systems from us or regularly order exhibition rentals.
In addition, we offer you the service of recycling your past graphics without damaging the environment.
We do responsible business and work with responsible customers.
The cost of exhibition stand building
Write your contacts, and we will contact you within 30 minutes about your project. 
3D sculptures for promotions
Exhibition services for the best trade show
The exhibition stand graphics on your trade show booth