Rental displays for your trade show
Booth rental is a great solution when your budget is limited, or you have little time to prepare for an upcoming event. It's much easier to rent displays and make small details in the design than to design and build a booth from scratch.
Trade show rental is the standard practice of working with an exhibition stand builder, which significantly simplifies the procedure for your participation in the exhibition.
We distribute modular exhibition stands in Europe, so we offer modular exhibition systems for lease, specially designed for multiple uses at shows.
Our modular systems are a unique joint development of designers and engineers. The peculiarity of our trade show booths is the possibility of using many ready-made design solutions for any size of exhibition space.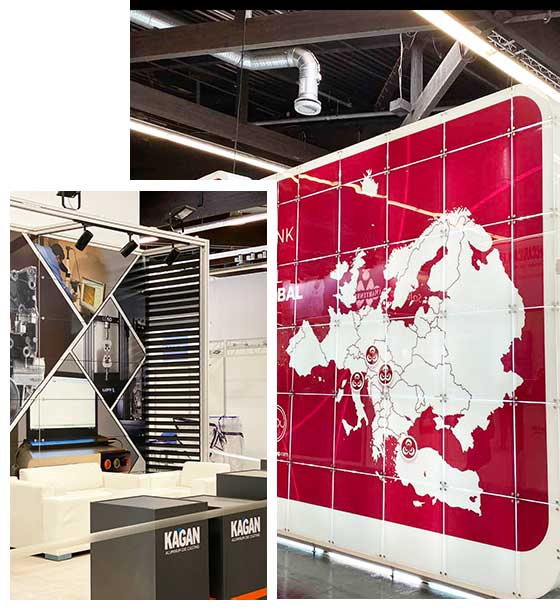 Types of booths for modular display rental
With us, you can order any size and shape. We will choose the most suitable exhibition booth for you based on the floor plan of the exhibition and your rented space. Depending on where your future booth will be located and how many open sides it will have, we can offer you the following ready-made modular display rental solutions:
Because our modular exhibition system is assembled from elements of different sizes, we can offer you an exhibition construction of any size for rent. You only need to add or remove a few elements to increase or decrease the booth size, and your size is easily adapted to what you need.
DO YOU WANT TO KNOW THE COST OF YOUR STAND?
SEND US THE REQUEST, AND WE'LL DISCUSS IT!
The cost of trade show rental displays
The modular display rental service includes the following:
You are renting an aluminum frame, the base of the structure, of the size you need.
A set of removable panels and connecting elements of the future modular stand, considering what areas of the frame you may need. We always discuss the functionality of the exhibition stand you need with you in advance before we offer the best option.
Branded packing case and protective boxes for the structure.
Team for installation and dismantling of the modular exhibition booth.
Insurance of modular exhibition construction.
Execution of accompanying documents, assistance in the execution of import accompanying documents, if necessary.
Support and consultation of the leading project manager at all project stages.
The price of the rental is not included in the price:
creation and printing of exhibition graphics;
rental of exhibition furniture;
rental of LED screens and other equipment;
cost of logistics to the venue from our nearest warehouse and return of rented stands;
Storage of the exhibition stands if the customer cannot accept the exhibition stand at the exhibition in time for further installation.
The cost of modular display systems
Write your contacts, and we will contact you within 30 minutes about your project. 
3D sculptures for promotions
Modular stands for trade show for rent