Exhibition and conference stand contractor in the UK (United Kingdom)
We design and construct exhibition stands for your participation in trade shows and conferences in the UK. Our team of professionals solves all the tasks facing a client who has decided to participate in a trade fair quickly and professionally. Even if you have never attended a trade show or conference in England, we will help you feel confident.
You can provide us with a ready-made design that the designers have created for you, and we will calculate the project cost. If you have a ready-made design, our designers will create a customized stand design to suit your business goals at the event or offer ready-made solutions from modular designs.
We provide turnkey exhibition services, which means we help you communicate with the organizer, and sometimes we do it ourselves. We also organize additional services for you and order souvenirs and logistics of your products, which you plan to present at the exhibition stand.
Fast booth construction in the United Kingdom
Companies that choose to participate in the UK event really go to the next level in expanding their business contacts and enterprise opportunities. To finally win the trust of your partners, you need to present your company and products in the best possible light. For this purpose, an exclusive exhibition stand design with elaborate product display and meeting areas is used as such a tool at the exhibition.
If you trust us to create a design concept for an exhibition stand or conference venue in the UK, we will have a video call with you and our project manager or designer will ask a few questions that will help us not just draw a beautiful stand, but make it functional and relevant to your objectives at the exhibition. Each company pursues its own business goals when deciding to participate in an exhibition. Someone is looking for new partners, and someone holds meetings with existing ones, for some companies it is an opportunity to announce themselves, and someone has to maintain brand recognition and demonstrate their developments. Everyone's goals are different, so the solutions for them cannot be the same. An exhibition stand is not just a set of walls and reception. It is your working tool at a trade show that helps you achieve your goal.
Regardless of the size of the booth, we get the design work done quickly. If the design is approved and no further adjustments are made to it, we promptly prepare materials, and it is the turn of the production department to make your and your designer's idea a reality. In 100% of cases, our stands look as they were depicted in the design projects.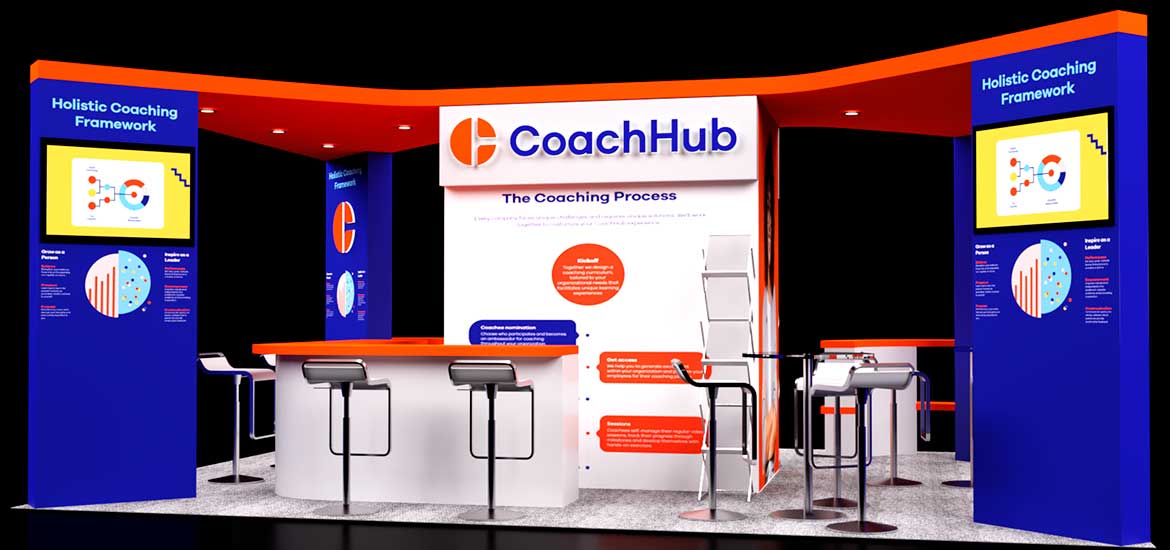 Turnkey Stand Construction for Your Trade Fair in UK
We provide the full range of services you will need at a UK trade show:
Development of exhibition stand design;
Creation of project documentation for the stand;
Installation and dismantling of the exhibition structure;
Services of a project manager for the duration of the project;
Possibility to store the exhibition stand purchased from us until the next event (applies to modular stands and frame elements);
Rental and ordering of exclusive exhibition furniture;
Printing of banners of any size and complexity;
Production of souvenir products;
Rental of audio, video, and LED equipment for presentations;
Catering and cleaning services at the stand.
How to Purchase Your Exhibition Booth in the United Kingdom
Create or send us the booth design
The solution to buy custom or modular stand
The construction of your stand
DO YOU WANT TO KNOW THE COST OF YOUR STAND?
SEND US THE REQUEST, AND WE'LL DISCUSS IT!
Where We Build Exhibition Booths in UK
Stand Construction in London
Stand Construction in Glasgow
World Exhibitions in the United Kingdom
Every year there are over 400 events for businesses in the UK.
Some exhibitions are held every two years, so it's important to prepare for them in advance. Here is a list of how you can evaluate and select the UK event you want to present your company at:
The criteria for preliminary evaluation and selection of exhibitions are:
the exhibition theme;
the exhibition format (b2b, b2c, etc.);
the exhibition organizer;
terms of holding;
the venue, the infrastructure of the exhibition site;
advertising campaign of the exhibition;
the quantitative and qualitative composition of visitors;
quantitative and qualitative composition of exhibitors;
the exhibition area;
official support;
the scientific and business program;
availability of the certificate of audit of statistical indicators of the exhibition event;
marks of exhibition associations (UFI, RUEF, MCCI, etc.);
the cost of participation.
Send Us a Request for Estimation of Your Booth
The cost of an exhibition stand in UK
Write your contacts, and we will contact you within 30 minutes about your project. 
3D sculptures for promotions