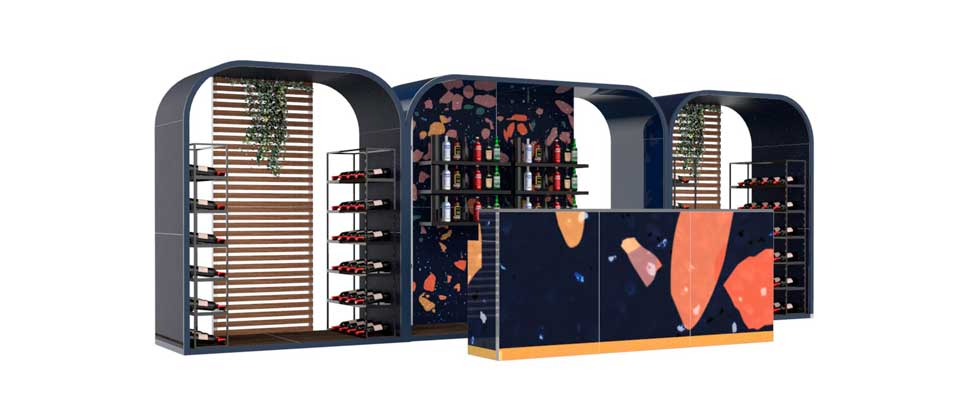 Shell scheme booth is a simple modular display system used at trade shows or other promotional events. It is a system with a standard design, simple assembly, and usually not exceeding 50 square meters.
Shell scheme stand design does not involve complex elements. Instead, exhibition furniture, exhibition graphics, and LED panels are used to animate such designs.
We are a shell scheme booth supplier in more than 24 countries. Our team will be able to offer you to buy a shell scheme booth of any size.
Where you can apply the shell scheme stand
Shell scheme stands are most often found at trade shows or fairs. Such structures are used to build up small areas on a limited budget. Shell scheme booth design in such systems does not play a unique role because shell scheme walls provide a classic look and configuration.
Designs on the type of shell scheme booth are easy to assemble; therefore, they are also used in various events and promotions.
Advantages of using our shell scheme stand
Choose your own shell scheme booth design
Build a shell scheme booth with our modular blocks for your brand
The modular display frames consist of specially prepared sheets of different materials and plastics. The modular sheets are attached to the aluminum frames with magnetic or Velcro strips.
After installing the panel, you should always check that it is appropriately and securely fastened.
The Clever Frame brand system should permanently be mounted on a level surface.
Before installing electrical devices, ensure that all electrical wires are not damaged or pinched by the stand base.
Electrical devices should not be plugged in before the stand is assembled.
If light sources other than rental LED screens are used, it is necessary to check that they are placed at the proper distance from the panels and do not cause overheating of the panels' surface.
It is recommended to fix the panels with protective gloves to avoid dirty stains on the boards.
In the case of stand construction, whose elements are higher than 2.5 m, we strongly recommend using retaining rings (ACSo8), which can be purchased from the online store modular display systems.
These elements are an additional protection against falling out of modular display panels in case of solid shocks or draughts. Their use prevents accidents.
The Clever Frame system, without unique elements, is intended for indoor use only. Therefore, the system must not be exposed to the external environment.
DO YOU WANT TO KNOW THE COST OF YOUR STAND?
SEND US THE REQUEST, AND WE'LL DISCUSS IT!
How to install our modular display systems
Your shell scheme booth supplier
You form your shell station price depending on the area and elements required for your purposes. Each shell scheme booth part has its price. You can choose the features you need or ask our managers for help.
Small Modular Booth
6x frames
18x connecting elements
6x graphic panel
1x top 75x50cm
1x trolley cover
10 years guarantee
Discount on repeat purchases of graphics
Modular Stand 12 Frames
12x frames
36x connecting elements
12x graphic panel
2x Upper profile
4x 3-side threaded profile
2x trolley cover
10 years guarantee
Discount on repeat purchases of graphics
Exhibition Booth 18 Frames
18x frames
52x connecting elements
18x graphic panel
2x upper profile
4x 3-side threaded profile
3x trolley cover
10 years guarantee
Discount on repeat purchases of graphics
The cost of modular display systems
Write your contacts, and we will contact you within 30 minutes about your project. Choose whether you prefer to buy a modular trade show booth or rent modular stands for booths.
FAQ about your shell scheme booth
Modular structures of TM Clever Frame