Exhibition Stand Constructor for the Engineering Industry
We design and build trade show booths and turnkey conference presentation areas in Europe. Our team creates turnkey designs for mechanical engineering trade shows and other industry-specific events.
For large-sized exhibition samples, we offer designs that will fully show your products off to their best advantage. We use special equipment considering safety rules to install objects on the site. We also provide logistics services for your exhibition samples to engineering exhibitions.
Construction of exhibition structures for engineering and industrial exhibitions usually takes quite a lot of time and effort for both the customer and the contractor, so we provide only experienced project managers for your projects.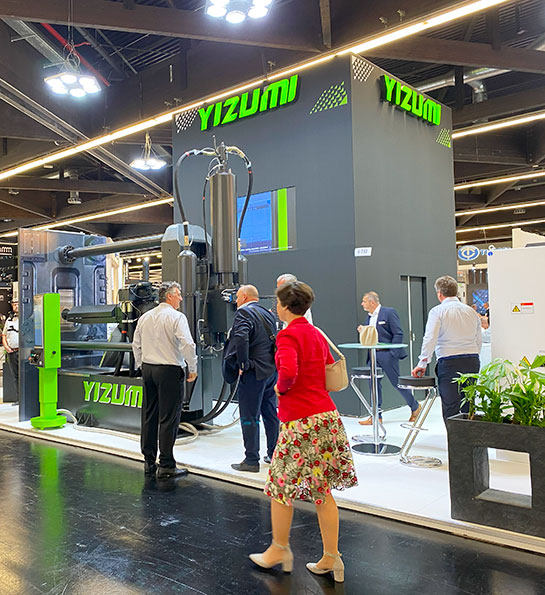 As part of a turnkey solution for companies taking part in machine building and industrial exhibitions, we offer the following:
Creation of a design project for the development of your exhibitor space;
Design documentation for the construction of the booth for the event;
Full project support by a project manager from our side;
Organization or order of souvenirs and other products from third-party contractors for use at the engineering exhibition or conference;
Assistance in ordering on the side of the exhibition complex or event organizer;
Logistics services for delivery of your demonstration products to the territory of the exhibition complex;
Support during the exhibition by your project manager, including at the show or conference, to solve current problems related to your participation at the event;
Installation and dismantling of exhibition structures;
Disposal of exhibition structures according to the requirements of the organizer;
Rental LED screens of all sizes and audio equipment.
Ask our managers for a presentation of our work for engineering and industrial exhibitions, and tell us about the project to be implemented. We do our work on time and with high quality, and value our customers.
The price of building an exhibition stand for an industrial engineering trade show/conference
Please tell us your project requirements, and we will reply in the next 30 minutes. Ask for the Presentation of solutions for the Engineering Industry.
3D sculptures for promotions