Audio and visual equipment rental
No exhibition can do without placing audio & visual equipment on the stand, so you will need modern equipment to demonstrate the benefits of your company's products and services to the exhibition's visitors.
You save time and money by getting all the necessary services for the event from one supplier.
You can rent all the necessary equipment from us for installation and further dismantling. Our specialists will offer you the best option to provide quality light and sound for your event.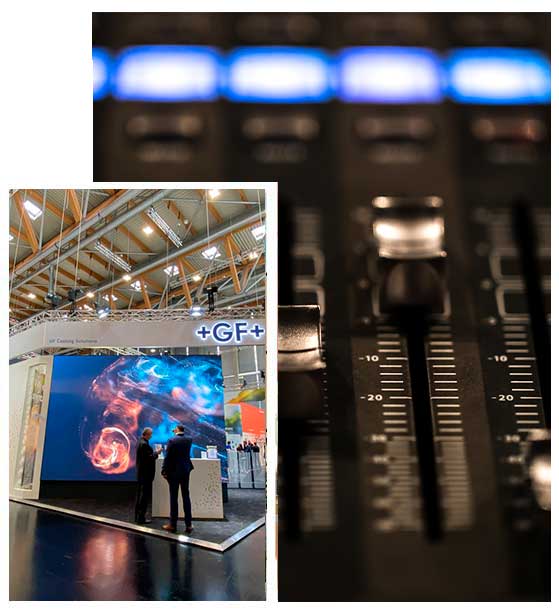 To ensure sound at your events, we rent sound equipment from the world's best manufacturers. Good sound is guaranteed. In addition, we provide services for adjusting the rental equipment and can monitor the smooth operation throughout your event.
Audio visual equipment rental
You can count on us when it comes to audiovisual equipment rental services. For an exhibition or conference, you can order equipment from us. Contact our sales managers and collect all the necessary equipment to ensure your event doesn't go unnoticed.
We will find the right equipment if you don't know what audiovisual equipment you need. Please let us know what country and city you are planning your event in, so we can calculate your rental price and logistics costs.
DO YOU WANT TO KNOW THE COST OF YOUR STAND?
SEND US THE REQUEST, AND WE'LL DISCUSS IT!
When to use audio and visual equipment
Audio and visual equipment are used at trade shows and other corporate events, including conferences.
Every booth during an exhibition tries to demonstrate creativity and understanding of the modern trends of its owners. To achieve this, equipment is used to create the right atmosphere. Specialists use audio and visual equipment to create a unique atmosphere and accurately communicate necessary messages.
The organization of conferences is always accompanied by quality sound and video. For this, you also need modern equipment, which is more profitable to rent than buying a one-time installation.
Our sales managers can offer you the necessary equipment within your budget. Write us a request, and we'll get back to you within an hour. Please tell us if you need another service for your trade show.
Calculate the cost of the project
Write your contacts, and we will contact you within 30 minutes about your project.
3D sculptures for promotions
Exhibition services for the best trade show
What ready-made stands can you order