Exhibition Modular Stands and Display Systems
We build modular exhibition stands and dismountable structures for trade
Modular exhibition stands are a solid solution when you need to reuse an exhibition structure at other trade shows
We build and sell modular exhibition stands and systems from the world's leading manufacturers that you can use at all exhibitions. Our team offers a constructive solution you can maintain without additional costs if you choose a modular stand.
Ready-made modular stands and solutions for trade fairs are elements from which you or, with our support, can build a modular exhibition stand to suit your business purposes. It is as simple as putting together a tower of cubes!
All elements of modular exhibition stands are compatible. You can change them in any order and at your discretion. This allows you even more flexibility to use one modular system for your marketing needs. The payback on modular stands is easy to calculate. Every time you use a modular design, the cost of production goes down, and your revenue goes up. It is the best solution for those companies who know the value of money and plans to use an exhibition stand more than once.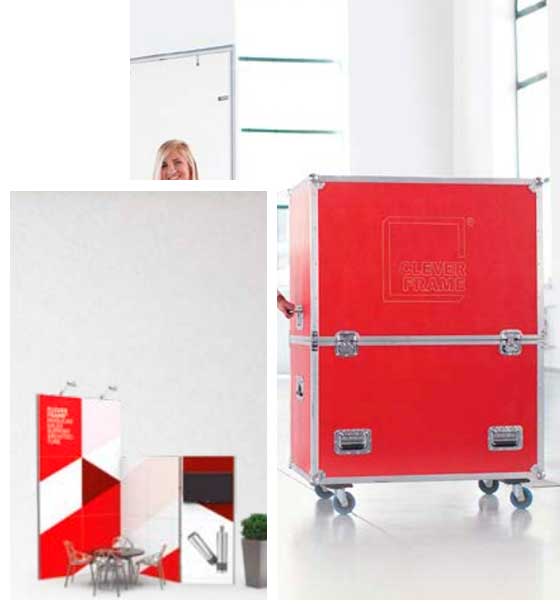 What a modular display system is
Modular display systems are a set of elements and fixtures designed to create a demonstration space. In other words, they are systems that can be assembled to meet your advertising needs.
Such modular exhibition systems support your marketing and your sales.
If you need to communicate with your audience or organize a promotional demonstration of products, you need space and additional tools to perform these tasks.
With modular display systems, you can organize such a space in a short time. As a result, sustainable modular exhibits and display booths are popular with marketers because they have several advantages.
We distribute different variants of modular display systems for all your business needs.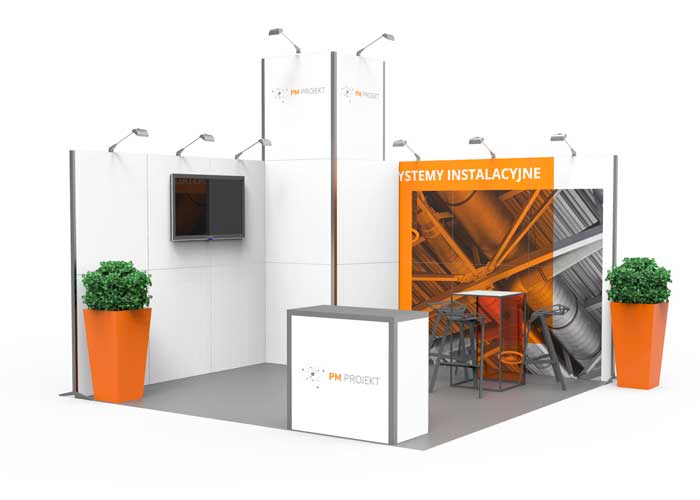 Choose your version of modular display systems
Important in modular display solutions
Pay attention to the important elements that allow you to buy our modular systems once and use them an infinite number of times, changing the design yourself
Aluminum frames
Robust and lightweight design, easily adaptable to your desired booth size
Additional elements
Choose the element you need for your booth. The new element will change the design of your booth
Various configurations
From one kit of modular displays, you can create dozens of different designs
Quick installation
It will take you no more than 3 hours to assemble a modular booth up to 15 square meters in size
Services to modular display systems
A modular exhibition stand is quick and easy to assemble and dismantle, even without specialist support. In addition, these systems are multifunctional, meaning you can use one for different needs.
Our modular exhibition stand kit organizes a variety of events. Since the system consists of special detachable blocks and fixtures, you can model the design and functionality of the modular exhibition stand that you need for today.
You can use modular booths wherever you need to install them. There are no special conditions to deploy a modular booth and start presenting your products quickly. See how easy it is to assemble our design by a fragile girl. 
Modular stands from our manufacturers are lightweight, multi-functional designs. Aluminum display cases, additional functional elements, and fixtures to create your modular stands are made from durable and modern materials that have quality certificates and have been tested by more than 2000 of our customers.
We are confident in the quality of our products. When you buy our modular display systems, you usually get a ten-year warranty on all aluminum constructions and 12 months warranty on prefabricated panels. You can easily change the modular booth design of the trade show display kit thanks to interchangeable magnetic graphic panels. Adding any element from the trade show kit to our constructions is easy. 
DO YOU WANT TO KNOW THE COST OF YOUR STAND?
SEND US THE REQUEST AND WE'LL DISCUSS IT!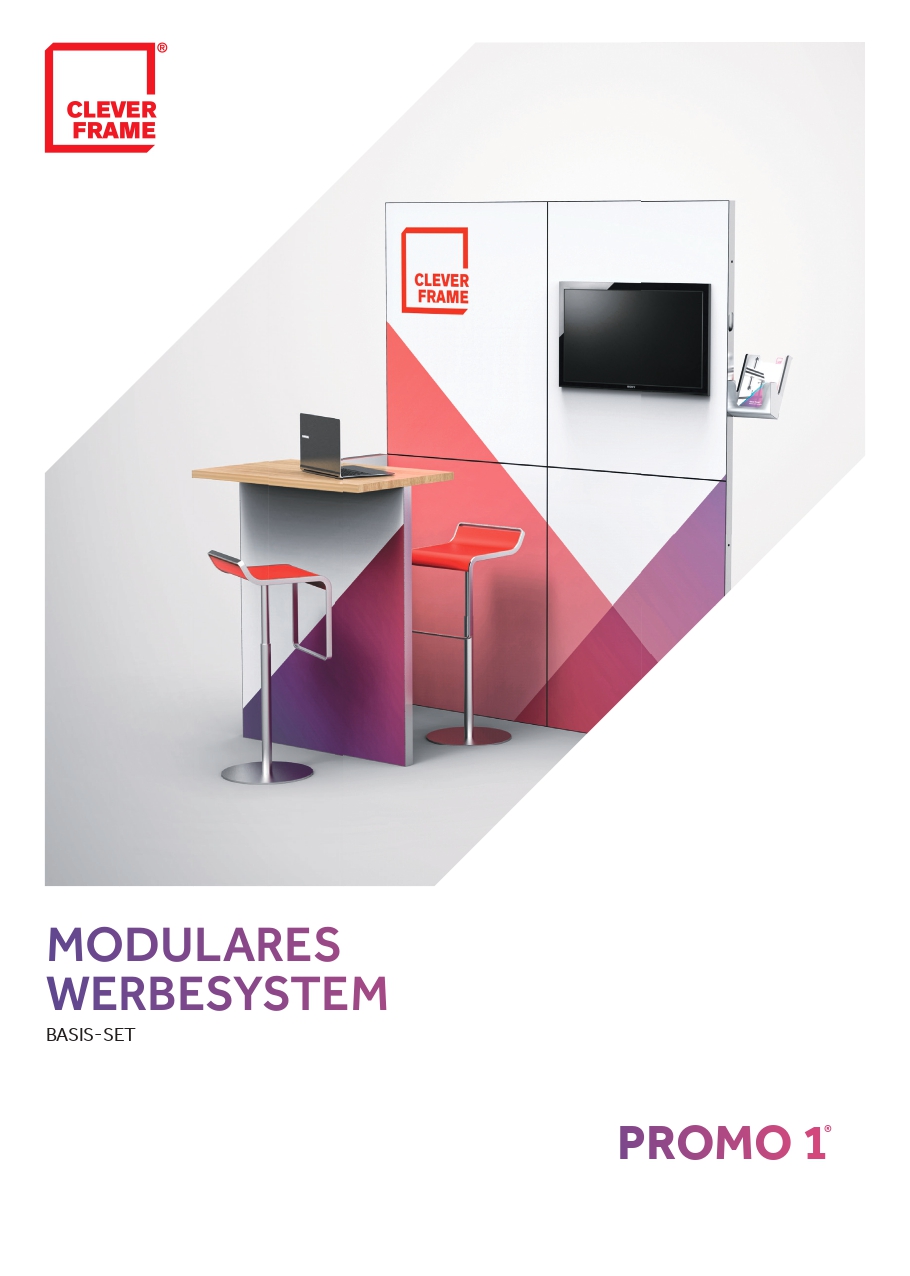 Choose your design of stand's modular systems
Our designers have prepared more than 1,000 trade show booth layout templates for you for free. Over twenty years of modular stand manufacturing, we have created all kinds of different designs for trade show booths.
That's why we have something to offer you, regardless of your advertising goals.
Our designers will help you decide on the design of the booth. If you have a ready design that you would like to implement in your display, then send it to us. Our engineers can calculate and tell you how much time it would take to make your custom booth and how much it would cost to make such a modular display system.
Check out the possible exhibition stand designs for your future modular stand. All exhibition booth designs from our designers are modern and stylish. Colors and decor elements create the impression of a unique modular frame, even on standard and identical constructions.
See how many exhibition stand designs are available after you purchase one of our trade show display kits.
What does the path for your product display solutions consist of
Choose your option for the modular show booth:
Add items from our modular kits for commercial display stands:
Choose to buy or rent the selected trade show booth kit:
It's easy to change a booth design with our booth display
Buy one set of modular display systems, and get more than 50 designed modular stands.
You can present a new design for your exhibition booth at every show. Replace the exhibition graphics and add new decoration elements. According to our instructions and catalogs, you can assemble a new kiosk quickly without tools. We have designed our modular display systems to make their assembly intuitive for anyone. Experience the diversity of your future stands from just one display kit!
Additional services you may need when purchasing modular exhibition systems
You can buy one of the show kits and use it for years at all your events or trade shows. We will quickly print the graphics for your event in addition. You will receive a discount on all future orders for exhibition graphics printing. Once you order your display kits, we will arrange logistics for your location.
The cost of modular display systems
Write your contacts, and we will contact you within 30 minutes about your project. Choose whether you prefer to buy a modular trade show booth or rent modular stands for booths.
3D sculptures for promotions