We Construct Trade Show Booths and Conferences Spaces in Germany
We build custom stands for exhibitions and conferences. We also sell modular booths and structures for multiple use at events.
You can order from us constructions of any complexity and size. As part of our cooperation, we offer a full range of services for your participation in an exhibition or conference in Germany. When you order an exhibition stand construction service from us, you get professional project management and timely delivery of a high-quality stand.
We provide logistics to all cities in Germany.
We offer the fastest construction of an exhibition stand in Germany
The construction of custom exhibition stands is suitable for companies who do not plan to use the construction at other exhibitions. Such stands require more time for preparation and construction since they are designed considering the client's particular wishes and unique design. This is a one-off product, which is usually disposed of after the event is over. You can see examples in our exhibition stand portfolio.
Unlike custom stands, modular stands do not take time to design. It does not take months to produce and assemble them, as it does for an ordinary custom-made frame. Such designs are suitable for companies that plan to use them in future events and almost always rent the same space for their participation in the exhibition. Modular constructions are also used at conferences, where lightweight and easily dismantled structures must be set up in places not intended for large exhibitions, such as hotels.
Ordering a modular booth in Germany can sometimes be a real time saver. A modular exhibition system will not work if you plan to build a multi-story exhibition stand. In this case, you will need to order a custom booth, for which specific engineering calculations will be made according to the requirements of the particular exhibition center in Germany.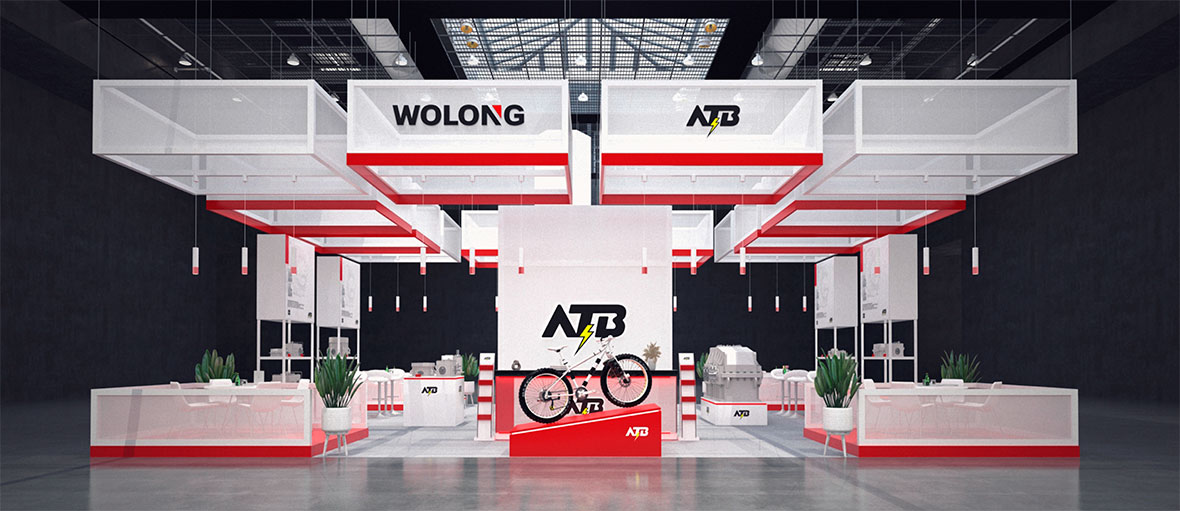 What we offer for your exhibition in Germany
Our team offers you the full range of services you may need to participate in a trade show in Germany:
How to purchase or rent your exhibition stand in Germany
Create or send us the booth design
The solution to buy custom or modular stand
The construction of your stand
DO YOU WANT TO KNOW THE COST OF YOUR STAND?
SEND US THE REQUEST, AND WE'LL DISCUSS IT!
Construction of an exhibition stand at an international exhibition in Germany
If you decide to participate in an international trade show in Germany, you are guaranteed to achieve your goals. Germany is home to the most important exhibition centers, where hundreds of landmark events occur daily. Furthermore, the developed exhibition business attracts exhibitors from all over the world because they know that participating in the trade show in Germany opens the door for business to many countries in Europe and the world.
The most significant industry events take place precisely in Germany. International congresses and exhibitions in German cities attract many participants and visitors, introduce the latest industrial developments, and allow companies to take new steps towards further growth, establish contacts, and sign profitable contracts.
Germany has about 150 international trade fairs, approximately 2/3 of similar events worldwide. You can find exciting exhibition booths there.
Representatives of organizations providing the organization of EXPO and exhibitions are members of the German Trade Fair Committee (AUMA) on par with representatives of supreme councils of the economy and the industrial associations of enterprises. Therefore, it could be a great idea to construct an exhibition stand at AUMA in Germany, wouldn't it?
German Cities Where We Build Exhibition Stands and Conferences
Stand Construction in Berlin
Stand Construction in Cologne
Stand Construction in Düsseldorf
Stand Construction in Frankfurt
Stand Construction in Hamburg
Stand Construction in Hanover
Stand Construction in Munich
Stand Construction in Nurnberg
The cost of exhibition stand in Germany
Write your contacts, and we will contact you within 30 minutes about your project. 
3D sculptures for promotions