We Construct Trade Show Booths and Conferences Spaces in France
We design exhibition stands and build customized booths for trade shows and conferences in France. We also sell modular display stands and designs for multiple use at events.
Our engineers design exhibition structures of any complexity and size. Our production will realize your project for a trade show in France in a short time. The project manager will organize and supervise that your participation in the exhibition goes as planned. You can also order from us additional services and products for your successful attendance at the exhibition in France.
Prompt Construction of an Exhibition Stand in France
If you are planning to participate in a trade show in France with a unique design, you will need a customized booth construction. Building a custom booth will make you stand out at the trade show and help you achieve your marketing goals at the event. A custom design will require unique solutions in the design and construction of the structure, as well as personalized furniture and decor. All this we can offer you as part of the comprehensive work on the organization and construction of your exhibition stand in France.
If you have a standard, simple design and a small building area, we can use modular systems in the construction of the stand. In any case, before we offer you a solution for your participation in the exhibition, we will analyze the design of the project and your budget to make the price for the construction of the exhibition stand optimal for your company.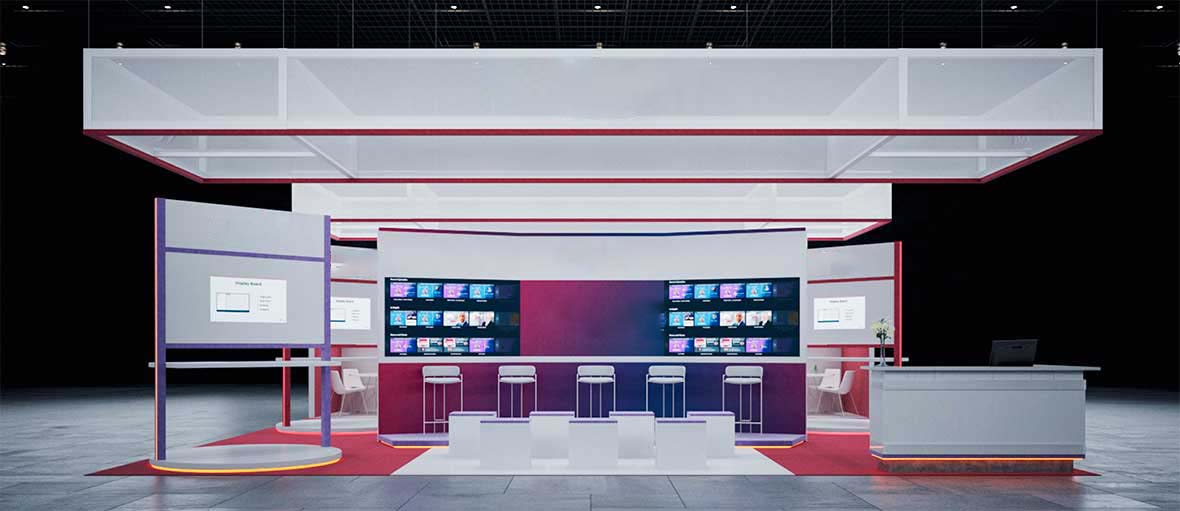 Services for Your Trade Fair in France
Our team offers you the full range of services you may need to participate in a trade show in France:
Creation of exhibition stand design;
Preparation of design documentation for stand construction;
Manufacturing of exhibition stands;
Stand set-up and dismantling in France;
Exhibition project management;
Fast printing of banners of any complexity and size;
Services for storage of the exhibition stand purchased from us until you need the construction for the next event;
Rental of exhibition furniture and custom-made furniture;
Assistance in the creation and logistics of souvenirs for the exhibition in France;
Rental of audio, video, and LED equipment for the presentation;
Catering and stand cleaning services.
How to Purchase Your Exhibition Booth in France
Create or send us the booth design
The solution to buy custom or modular stand
The construction of your stand
DO YOU WANT TO KNOW THE COST OF YOUR STAND?
SEND US THE REQUEST, AND WE'LL DISCUSS IT!
Where We Construct Exhibition Booths in France
Stand Construction in Paris
Stand Construction in Cannes
Stand Construction in Nice
Stand Construction in Lyon
France hosts the largest number of trade fairs and conferences each year. The autumn months are the most active period, so companies that plan to participate in trade fairs in France need to plan the design and construction of their booth from the beginning of summer.
You can send us an application with a ready design of an exhibition stand. In this case, it is important that the design of the exhibition stand is drawn by a designer who has experience in the exhibition industry. This is important because very frequently the visuals presented in the drawings cannot be realized due to non-observance of technical points and laws of physics. Only a designer who is directly related to the exhibition industry will be able to realize a concept that can actually be brought to life.
If you do not have a ready-made design, we will produce it. After our project manager contacts you, he or she will ask you questions. They will help our designers to draw an exhibition stand, which will worthily represent your company at an international exhibition or conference in France.
After the details of the booth have been agreed upon, the project manager will submit the project to the engineering and calculating department to prepare an estimate for the exhibition booth.
If the budget is approved after all the edits, we sign the contract and start working on the project. We will be glad if you choose us as a contractor to build your exhibition stand in France.
Start Your Booth Construction Project in France
The cost of booth displays in France
Write your contacts, and we will contact you within 30 minutes about your project. 
3D sculptures for promotions