Peninsula booths for the trade show
A peninsula booth is an exhibition stand with one side adjacent to another, usually located at the end of the aisle, so it has three open sides. This allows the peninsula booth to attract high traffic of visitors and provides an opportunity to experiment with booth design since the peninsula booth is usually more significant than a standard linear booth.
The most common peninsula booth sizes are 3×6 meters and 6×6 meters. The height of such a booth is limited only by the ceiling of the exhibition's pavilion. Often, to make their booth stand out from the others, companies build two-story stands.
The area under the peninsula booth is higher than the area for a conventional stand. And since design ideas are not limited to this type of construction, the best solution is to use modern modular systems to build a booth.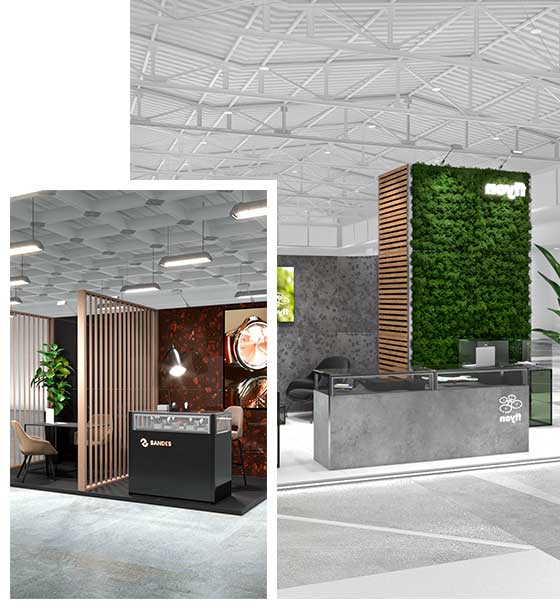 Versions of peninsula modular stands
DO YOU WANT TO KNOW THE COST OF YOUR STAND?
SEND US THE REQUEST, AND WE'LL DISCUSS IT!
How we create peninsula booths
Modular systems are unique in that they can be assembled into complex and attractive designs. Each set of modular systems is designed to build up a particular area, but adding additional panels allows you to increase the exhibition booth area to an unlimited size.
Our designers and engineers provided all possible design variants in every set of modular exhibition booths. If you plan to use a complex, unique design, our designers will help to draw it, and engineers will construct your construction according to these sketches. Then, within one month, we can create a custom modular system and ship it to you.
You can decide whether your employees will assemble your peninsula booth according to our instructions or whether you will invite our installation crew to the show.
We create modular systems so that even an office worker can assemble the system himself with just written instructions and handy tools. But if your system is unique, you may need professional help with some complex design solutions. We are always on hand to provide the service you need, even after completing the transaction.
Our sales managers will help you find the fitting peninsula booths kit from our pre-packaged modular exhibition system kits.
You can consider buying a modular peninsula booth construction kit. You can repeatedly use such a system at a wide variety of events, as many design options for exhibition stands can be assembled from the elements of the system. It is a justified investment in marketing that works.
If buying a booth at the moment is not justified for you, order peninsula booths rental from us. It's the easiest way to exhibit and allows you to build a state-of-the-art exhibit, even in a complicated peninsula booth option. Moreover, we can help you make a booth unique and eye-catching for visitors.
The cost of modular display systems
Write your contacts, and we will contact you within 30 minutes about your project. 
3D sculptures for promotions